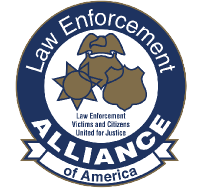 CELEBRATING 20 YEARS
1992 - 2012
---
Due to LEAA's legislative activities, contributions to LEAA are not tax-deductible
as a donation or business expense. Dues and contributions are not refundable.
We pledge to protect your right to free association and privacy related to contributions.
© 1992-2012
WE BELIEVE...
These are powerful words that carry a conviction all too absent in the world of politics and the liberal media. We believe in old ideals like right and wrong, like honor and integrity. We believe in the right of every law-abiding American to go about their lives as they see fit, enjoying the privacy, dignity and right to self-defense due to all such citizens. We believe that criminals, especially violent ones, deserve to be punished - swiftly and severely! We believe in the America of Norman Rockwell, a world of civility and personal responsibility.
At left you will find a set of ten topics that frame the LEAA platform. Having no interest in fancy speech or ambiguous positions, we begin each one by stating our position in clear language for all to see. We stand behind those words and those lofty principles as we have since our formation in 1992. We believe these issues are important to the American way of life, and hope that they are important to you. If they are, we invite you to join us in the great fight to return America to the values and traditions that made us great.
Law Enforcement, Crime Victims and Concerned Citizens.... United for Justice!!